Join pet bloggers and dog trainers in supporting reward-based training. #Train4Rewards
Are you a blogger? Do you support reward-based training for dogs and other animals? Would you like to take part in the #Train4Rewards blog party?
You are invited to write a blog post about reward-based training of dogs or other companion animals, post it on your own blog on the set date, then come and share a link to it here. Bloggers from anywhere in the world are invited to take part.
Last year
, posts covered training of dogs, cats and horses. As well as spreading the word about reward-based training, you will find new people to follow (and pick up new followers in turn).
Read on to find out more.

On Wednesday 14th or Thursday 15th June:
1. Publish a post on your blog in support of the #Train4Rewards blog party. It can be words, photos, video, a podcast, or a combination, and relate to any kind of companion animal. I've put some suggestions below to get you started.
Double-check your post to make sure the tone is friendly and supportive to people who might not know anything about positive reinforcement training – we want to be encouraging and upbeat.
2. Include the #Train4Rewards button in your post, using the code displayed next to it. (See below for more info).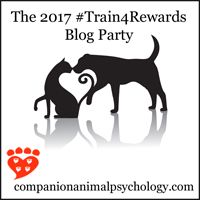 3. Add your blog to the list on companionanimalpsychology.com. The list will be open from 5am PST on 14th June until 8am PST on 16th June. Don't miss the deadline!
On Friday 16th June:
1. Check out the full list of participating blogs on companionanimalpsychology.com. Visit the other blogs, and leave comments to show support for your fellow bloggers.
2. Share your blog post on social media using the hashtag #Train4Rewards.
3. Share your favourite posts from other participating blogs on social media, also using the hashtag #Train4Rewards. You don't have to share all the posts (unless you want to), so pick the ones you like best and share those. You can spread this out throughout the day.
4. Feel proud of your contribution to improving animal welfare. Reward yourself with a piece of cake, a bunch of flowers, a walk in the woods, or whatever makes you happy.
Ideas for posts
Blog posts can be about any aspect of reward-based training and can use text, photo or video, so feel free to use your imagination.
Here are some suggestions to get you started:
What you enjoy about training using positive reinforcement
How to use positive reinforcement to teach a behaviour or solve a behaviour problem
A video of your dog, cat, rabbit, rat or ferret doing tricks
How to train your cat or rabbit to go into a carrier
The key thing that made you become a crossover trainer
Photos of dogs (or other animals) enjoying a training session
The best treats to use as rewards
Recipes for training treats
An ode to your bait pouch, written by your dog
Why you love your dog trainer
An interview with someone about why they use reward-based training
How to get the most out of the blog party
1. Bring your best post. It's like wearing your favourite dress to a party. The people who got the most out of last year's blog party wrote new posts. If you prefer to use an older post, you should at least try to update it. People are more likely to share new content.
2. Take time to edit. It's generally best if you can set aside the first draft of your post for a day or two, and then come back to edit. Re-writing is always an important part of the writing process.
3. Use a great photo. When you add your post to the list here, you will get the chance to choose the photo that will appear as your thumbnail. Everyone will have the Train for Rewards button, so if you have your own photo it will make yours stand out. Also, photos really help with sharing on social media. You can use your own photo, find one that is available for free use or pay for a stock photo (just make sure you're following copyright rules). If your post is a video, you might like to include a still from the video as a photo in your post.
The rules
What is allowed: anything that celebrates the reward-based training of companion animals.
What is not allowed: training that uses pain, including but not limited to choke and prong collars, electronic shock collars, alpha rolls, or other aversive techniques; spam and blog posts of a commercial nature.
I reserve the right to remove posts if they are inappropriate and/or not within the spirit of the blog party. Please keep posts family-friendly. No discussions will be entered into.
If you want, you can let me know that you are planning to take part. I look forward to reading your posts!

Technical details of adding the button:
The button is shown above.
Copy the code that is displayed next to the button. Put the code in the html part of your page.
In blogger, click the html button on the top left; in wordpress, the html button is on the top right.
Position the code where you would like the button to appear e.g. if you want it at the bottom of the page, put it underneath all the other html code; if you want it at the top, put it at the top.
If you want to centre it, put <center> at the beginning of the code, and </center> after it.
When you go back to your compose field, you will see the button in your post.
In Squarespace, add a content block, scroll down to "More" and then click "Code". Copy and paste the button code into the text editor that pops up. The content block can then be moved around like any other content block.
If you choose to also include a text link, please make sure it is a nofollow link (so as not to upset Google).
If you prefer to 'do-it-yourself', save the image of the blog button below (right click the image and save to your computer), put it where you would like to see it in your blog post, and then make it link to
the blog party page
. (Again, please make it a nofollow link).
Technical details of adding the link:
You can add the link to your blog post to
the blog party page
during the stated times.
You need to post the specific permalink to your blog post, not the main url of your blog. If you have pictures in your post, you will have a choice of thumbnails.
If you make a mistake or want to choose a different thumbnail, you can delete it and start again, any time up to the deadline.
You will be asked to provide your email address. This will only be used to communicate with you (if necessary) about the Train for Rewards blog party. You will not be added to any mailing lists. If you want to subscribe to Companion Animal Psychology by email,
you can do so here
. You can also read our
privacy policy
.